Meeting Minutes Example
Searching for a Meeting Minutes Example?
Then you have come to the right place! Meeting minutes are the instant written record describing the events, discussions and decisions of the meeting. You can find some minutes examples online; however here are a few samples for you to review.
Tips on how to take minutes:
Be sure to take attendance

Be sure to document the meeting start time and location if necessary

Determine your style of meeting minutes, Action, Discussion or Verbatim.

Record all pertinent discussions, decisions, conclusion statements and action items

Format the document to company standards

Distribute meeting minutes to designated attendees
If you are struggling with learning how to take minutes, the use of meeting minutes software like MeetingBooster simplifies this process, adding accountability and consistency, increasing overall effectiveness.
Meeting Minutes Templates:
Meeting Minutes Formats
There are three standard styles of minutes: action, discussion, and verbatim. Each style has a specific use:
Action minutes - decisions reached and the actions to be taken, though not recording the discussion that went into making the decisions.
Discussion minutes – contain everything action minutes do as well as the discussion which leads to the actions decided upon.
Verbatim minutes – A record of every single word said at a meeting.
The ready to use meeting minutes examples in MeetingBooster cover different types of minutes formats, such as general business meetings, staff meetings even sales meetings. MeetingBooster also includes powerful modules that assist note takers to capture important information to be used in the meeting minutes document. This improves accountability and overall meeting effectiveness. The meeting minutes examples can be standardized for use within your organization during future meetings.
Create Your Own Meeting Minutes Example
When the meeting is adjourned, the note taker is responsible for reviewing and finalizing the minutes. This process can be tedious when using traditional programs like MS Word, and typically there is redundancy in that the not taker must re-type the captured information into a more formalized meeting minutes document containing company logos, formatting, etc.
MeetingBooster lets you choose a professionally designed meeting minutes example, and save it as your own template. The meeting minutes example can then be shared with coworkers, aligning meeting procedures. A customized meeting minutes example can also be created if the need arises.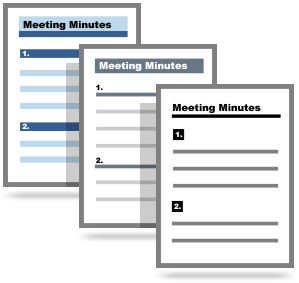 Take Minutes More Effectively with MeetingBooster!